About us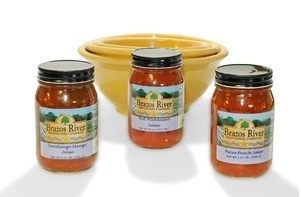 Brazos River Provisions Specializes in making unique jellies, barbecue rubs, salsa and coffee all with a Texas twist.
You can find many Texas gifts in our shop including Cuff links, Magnets, money clips and Texas Flags and maps.
We would love for you to stop by our shop, taste our jellies and enjoy the Historic Downtown District of Rosenberg, Texas.
Texas Style Jellies
Our jellies are made in small batches from the best ingredients. We do not use fillers, artificial flavors or colors.


Hot Jellies - These Jellies will spice up your life. Use them next time you BBQ or mix them with cream cheese for a tangy new dip. Such as:
Chili Pequin Wine Jelly, Fire & Ice Pepper Wine Jelly, Holy Smoke, Mama! Pepper Jelly, Peaches & Habanero Jam, Raspberry Chipotle Jam and Sweet Hot Mama! Pepper Jelly.


Wine infused Jellies - These jellies are inspired by the wines we love. Texas has many great wineries and we love visiting with them and infusing our jellies with local wines. Such as: Blackberry Merlot Jelly, Cabernet Jelly, Champagne Celebration Jelly, Cranberry & Spiced Wine Jelly, Peach Chardonnay Jelly, Sangria Jelly, Sauvignon Blanc Lavender Jelly and Strawberry Champagne Jelly.


Speciality Jellies - Our Specialty Jellies are unique with an explosion of taste in every spoonful. With an exquisite taste, these jellies are simply an experience. They come in limited supply and are seasonal. To get yours be sure to sign up to our newsletter so you know when we make them. Here are just two examples of our seasonal jellies:
Dewberry Jelly- Made with FRESH Wild Dewberries hand picked from my home town in Bloomington, Texas! Prepared in small batches to maintain the RICH, full bodied taste, and Mayhaw berries - Hand picked from "The Big Thicket" in East Texas! These berries are grown on the largest Mayhaw berry farm in Texas. Has an excellent balance of sweetness and tartness!
---
Texas Style Salsa
We make unique Salsa from the freshest ingredients.
Come and grab our Texas Style Salsa today! Some of our Salsa is only seasonal. Don't miss your chance to try these unique explosions of flavor!
---